Tesla Model 3 Track tires and wheels
The stock tires perform well for beginner or intermediate skill level drivers, but they don't hold up well. After a few races, your OEM tires will be all torn up and in need of replacement. So instead, get a track set of wheels and tires and swap them before you head to the track.
I'm currently running in HPDE3. For my skill level, I found the performance of the stock PS4S to be adequate, but they just didn't hold up well.

destructure00 – TeslaMotorsClub
Things to keep in mind
If you want to swap to your race tires before heading to the track, make sure you get street legal tires
You'll want additional negative camber to keep from rolling onto the sidewall of your tire in corners. If you're not using your entire tread width, then you're losing grip and wearing your tires unevenly
Some wheels will require a 3mm or 4mm spacer to clear the front control arms. If you are upgrading rotors, you can get the extra 3mm without a spacer
Depending on the wheel design and the hub sizing, you may want to order a hub centric ring to convert from the 64.1mm Tesla hub size to the size of your wheel's hub (typically 73.1mm like these: https://www.amazon.com/dp/B01JN0MUG4 ) For more specific details on the Model 3 hub size, see here
Aftermarket lug nuts may be necessary
18″ or 19″ wheel for racing Model 3?
In general, it's best to use the smallest wheels that will fit around the biggest brakes you ever plan on putting on your Tesla. The larger the wheel size, the heavier it will be.
Tire depending, the 18″ has more track tire options, with the 19″ having more autocross/street options, so depending on the tire you choose and your type of racing, that may dictate your wheel size choice.
Apex EC-7 Wheels 18×9.5
Apex EC-7 18×9.5 ET35 Mustang wheels fit the P3D+ wheels, clear the hub clips. You'll need 3mm or 4mm spacers at the front to clear the spindle. They aren't hubcentric, so if that concerns you then you'll need to get hub rings.
MasterC17 used these wheels with 275/40ZR-18 sized Nexen N FERA SUR4G tires as the overall tire diameter is very close to the stock 20″ wheels and tires. src
Apex EC-7 load rating is 1550 lbs
Wheels: Apex Wheels 18×9.5
Tires: https://www.tirerack.com/tires/tires.jsp?tireMake=Nexen&tireModel=N+FERA+SUR4G&partnum=74YR8SUR4G
Hub Rings: https://www.walmart.com/ip/A-set-of-aluminium-hub-centric-ring-size-ID-64-1-mm-x-OD-70-4-mm/204496480
Spacers: https://www.amazon.com/gp/product/B00KTPDKJY/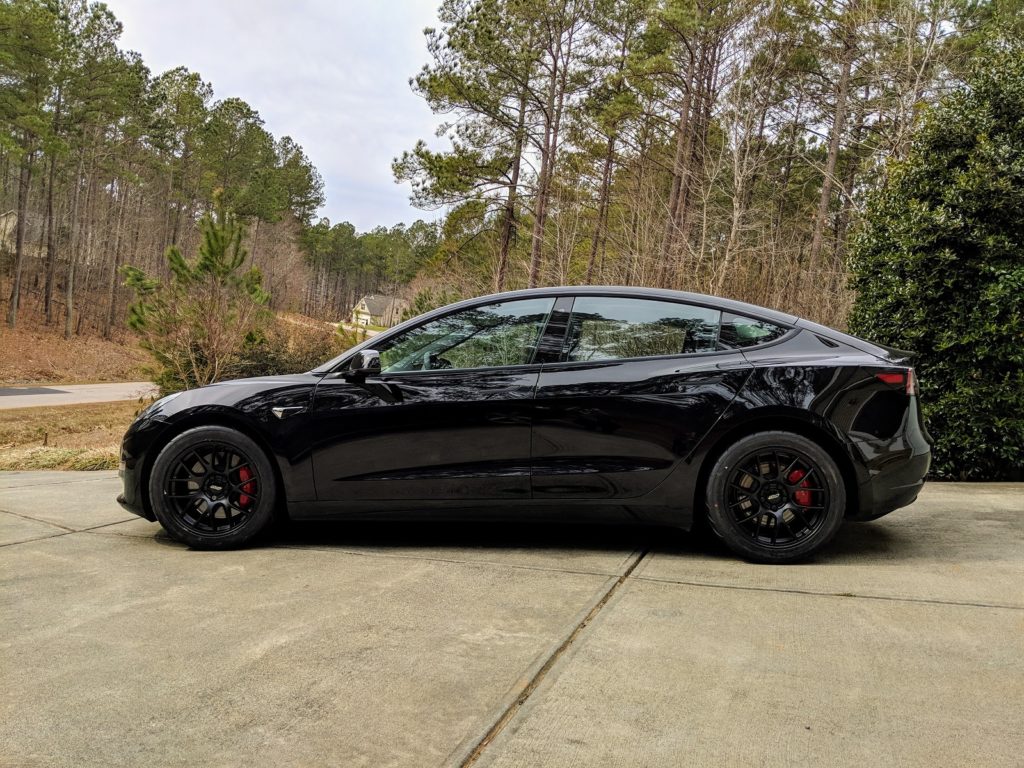 Enkei Raijin 18×9.5 +35mm
The Enkei Raijin 18×9.5 weighs 21.115 lbs. It will fit the performance brakes with a small amount of grinding needed on the rear caliper. src
Konig Dekagram 18×9.5 +35mm
It bolts up to the P3D and clears the rear caliper without the need for grinding. If you want to run wide tires you'll need a spacer up front src
Konig Dekagram 18×9.5 weighs 20.59 lbs, 1521 lbs load rating
Available at:
DiscountTire https://www.discounttire.com/buy-wheels/konig-dekagram
Summit Racing https://www.summitracing.com/tx/parts/kng-dk98514355/overview/
Konig Hypergram 18×9.5 wheels
18×9.5, ET35 5×114.3. They are flow forged like the Apex wheels, but almost half the price. Weigh 19.4 lbs – Konig says they won't clear the performance brakes but destructure00 ordered some and they fit src
Konig Hypergram wheels have a load rating of 1542 lbs.
FastWheels FC04 19×9.5 +35
Measured at 21.2 lb. Made in Canada.
19×9.5 Wheels
Konig Ampliform 19×9.5 wheels
Wheels weigh 22 pounds. Wrapped with Potenza RE71R 235/40 R19 tires, they are lighter than the stock, but look a little funny. They still performed well at the track and were lighter and cheaper than the more popular 265/35 size. src
19×10 Wheels
Mountain Pass Performance uses Advan RGIII Wheels on their Tesla Model 3 with 275/35 tires. There was slight rubbing at full opposite steering lock while drifting. src
Advan RGIII Wheels
Front: 19×10 +35
Rear: 19×10 +35
Bridgestone RE71R Tires
Front: 275/35/19
Rear: 275/35/19
Tesla Model 3 Track Tire Choices
RE71R
It's a great tire, but some say that it wears fairly quickly. Great dry grip, and allowed in autocross. Similar in performance to BFG Rival S.
Nitto NT01
A street legal, hard R-comp tire. Known for lasting a long time, similar dry grip to the RE71. Similar to Maxxis RC1
Hancook RS3 or RS4
200tw like the RE71 but lasts as long as the NT01. It has a bit less dry grip than both, but is a decent compromise.
Falken 615k+
Used by lots of crapcan drivers because it has decent grip, lasts a long time, and is cheap
Nexen SUR4G
275/40-18 fits on the front and rear with Konig Dekagrams 18×9.5 +35, 3mm spacer used up front but "i don't think is even totally necessary"
Tesla Model 3 Track Tire Sizes
"The standard tire once you upgrade your wheels seems to be the 265/35/20 … At a recent track day, there was another Tesla 3 running 300 width, full slick, Michelin's. So, you can go bigger" BRRacing