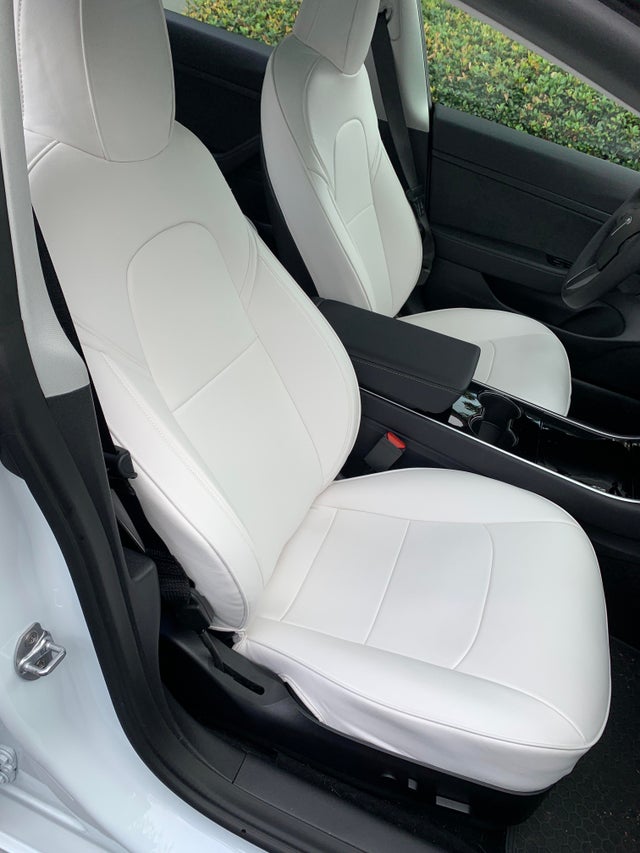 Aftermarket white seats covers installed in Model 3
Products in this review:
Tesla model 3 white seat covers by Bomeilai

Reddit user dparrish209 installed these white seat covers that he bought in Amazon, and the results look amazing.
Bought these from Amazon and installed them last night. They are pretty difficult to install, especially the rear seats but after watching some videos online I eventually got them on. Took me about 4 hours total. Overall I'm quite happy with them. I might take the rears off and redo them to get a slightly tighter fit. In terms of quality, so far they seem quite nice. They are a little less smooth and more grippy than the OEM seats but still quite comfortable. They also have reduced stitching near where the seat airbags will deploy so I should (still a risk!!) be "safe" in the event of an accident where they deploy.

Overall I'm quite happy. The install is quite a pain though. Definitely set aside an entire Saturday or Sunday because it can take quite a while. And the online videos suck. Certain parts they make look real easy and end up being the hardest parts of the install (such as undoing clips on the bottom of the front seats or unplugging the rear seat connections). All said and done about 4-5 hours to do it right and take your time.

It definitely takes a lot of massaging and coercing them into place in order to get an OEM looking fit. From a distance and with the doors closed looking in from the outside, you can't tell that they're covers at all. Once you poke around closely you can see a bit of creases and such, so I'm probably going to take off a couple pieces and redo them since I've done it once before now. But if you take your time and do it right you can really make it look clean!
Review Source: https://www.reddit.com/r/TeslaModel3/comments/eppqyp/installed_white_model_3_seat_covers_from_amazon/
All images, quotes, etc are archived here from this review location.